A Vapotherm
Center of Excellence
23%
IMPROVEMENT
IN DAYS TO WEAN
44%
IMPROVEMENT
IN DECANNULATIONS
43%
REDUCTION IN BRONCHOSCOPIES
Although individual results may vary, Vapotherm believes Florida Hospital at Connerton's story represents a powerful example of the impact Vapotherm's humidification can have in an LTACH setting.
Investing In Technology To Provide The Very Best Care
Florida Hospital at Connerton is a 50-bed not-for-profit hospital that provides specialized care for patients with acute or chronic respiratory disorders.
The hospital began using Vapotherm in December 2015 and expanded their use of the technology the following year after comparing patient outcomes. It was designated a Vapotherm Center of Excellence in 2017.
Fewer Invasive and Costly Follow on Procedures
Since implementing Vapotherm, Florida Hospital at Connerton has seen a 43% reduction in the number of therapeutic bronchoscopies performed.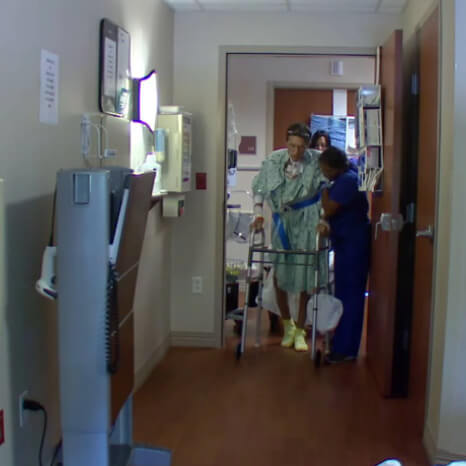 Improved Mobility For Patients
Mobility is an important part of patient rehabilitation at Florida Hospital at Connerton.
The multi-disciplinary team uses the Vapotherm Transfer Unit to maintain Vapotherm therapy while mobilizing their patients.
Treating patients Effectively with Hi-VNI® Technology