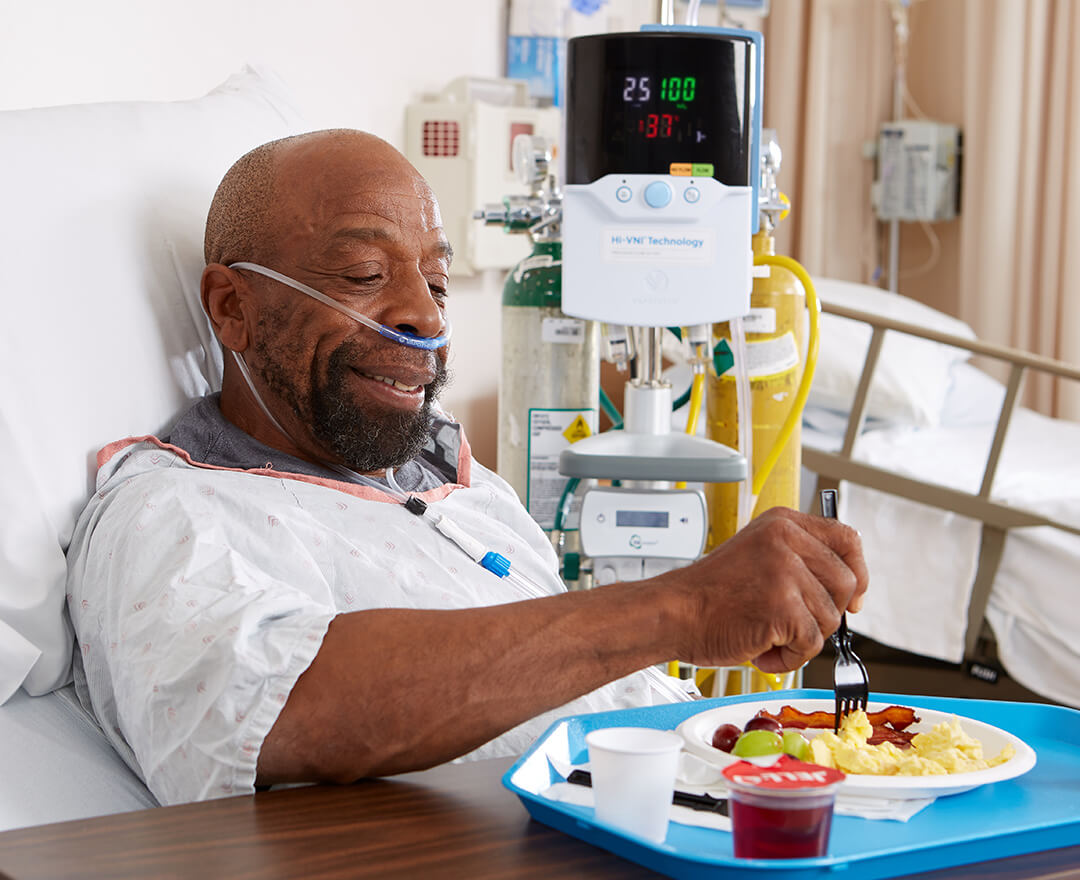 Un-Mask Respiratory Support
About a third of patients needing traditional mask-based ventilatory support are mask-intolerant, risking failed treatment, cost of care, and care escalation.
Vapotherm high velocity therapy helps you rethink the traditional approach to ventilatory support with patient comfort in mind.
Patients can eat, drink, talk, and take oral medications while receiving ventilatory and oxygenation support.
An Alternative to the Trusted Gold-Standard of NiPPV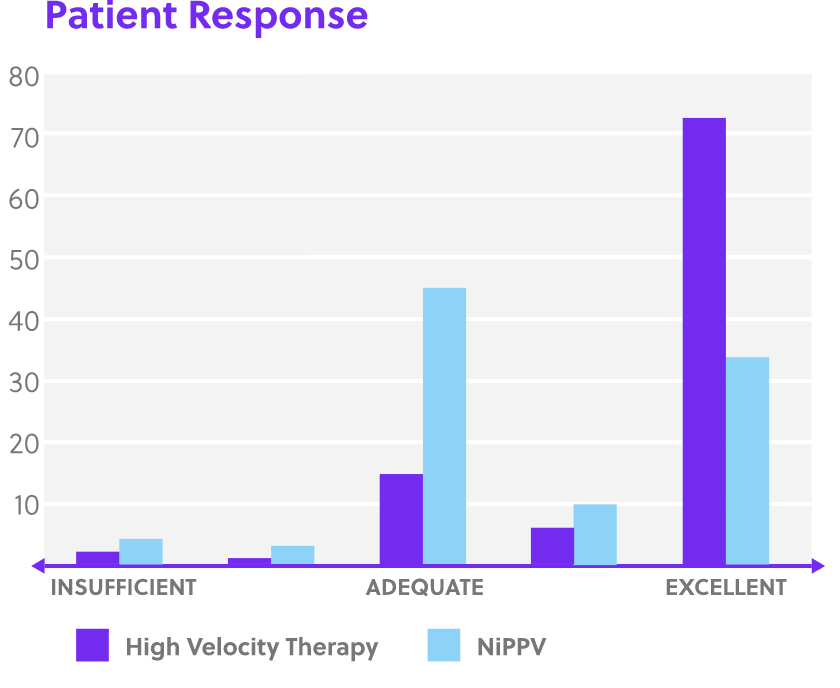 Disclaimer: Perception of patient response, patient comfort and simplicity of use as reported by physicians in Doshi, et al. study.
Proven to help patients with respiratory conditions avoid endotracheal intubation.
The nasal cannula interface is comfortable for patients and reduces the risks and care complexities associated with mask therapies.
Vapotherm high velocity therapy is clinically indicated for respiratory distress caused by:
Asthma
Bronchitis
CHF
COPD
Dyspnea
Pneumonia
Prolonged mechanical ventilation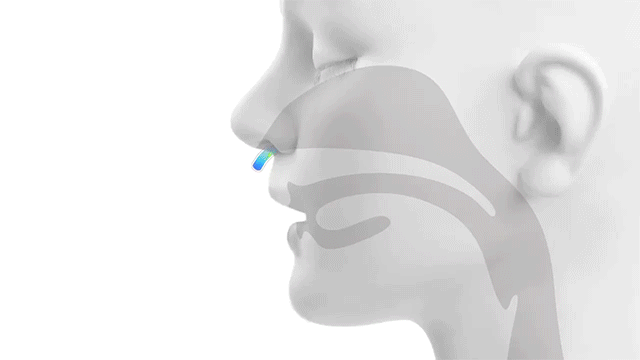 Traditional NiPPV vs. Mask-Free NIV… Feel the Difference.
Alveolar Ventilation = (Tidal Volume — Dead Space) x Respiratory Rate

The rapid flushing out of the upper airway dead space is how Vapotherm high velocity therapy facilitates alveolar ventilation.
In order to achieve ventilation, NiPPV most greatly affects the tidal volume aspect of the above equation. The machine ensures ventilation by using positive pressure to deliver target tidal volume. Because there is a risk of over-pressurization, clinicians generally start low and adjust up for effect to stabilize a patient.
However, it is also possible to achieve alveolar ventilation by affecting the other parameter in the equation: dead space.
Unlike NiPPV, high velocity therapy is an open system de-escalation therapy—it is safe to turn on high and stabilize the patient fast. The clinician can then titrate down upon patient response.
How is High Velocity Therapy Different from Common High Flow Nasal Cannula?
While common HFNC uses large bore cannulas, Vapotherm high velocity therapy uses a small bore cannula system. By generating high velocity, this therapy flushes the upper airway dead space faster than common HFNC.
The faster the patient is breathing, the more important it is that their end-expiratory CO₂ be flushed out fast – before they take their next breath. With Vapotherm, the patient breathes in more oxygenated gas, reducing the work of breathing and augmenting alveolar ventilation of acutely ill patients, including those with acute hypercapnic retention. Because of this, the FDA distinguishes between common HFNC and high velocity therapy products.
Rethinking Ventilation: Do You Always Need Pressure?
NiPPV has been the gold-standard treatment for patients with hypercapnia. But while NiPPV may be preferable to intubation, it's not necessarily a therapy that all indicated patients tolerate.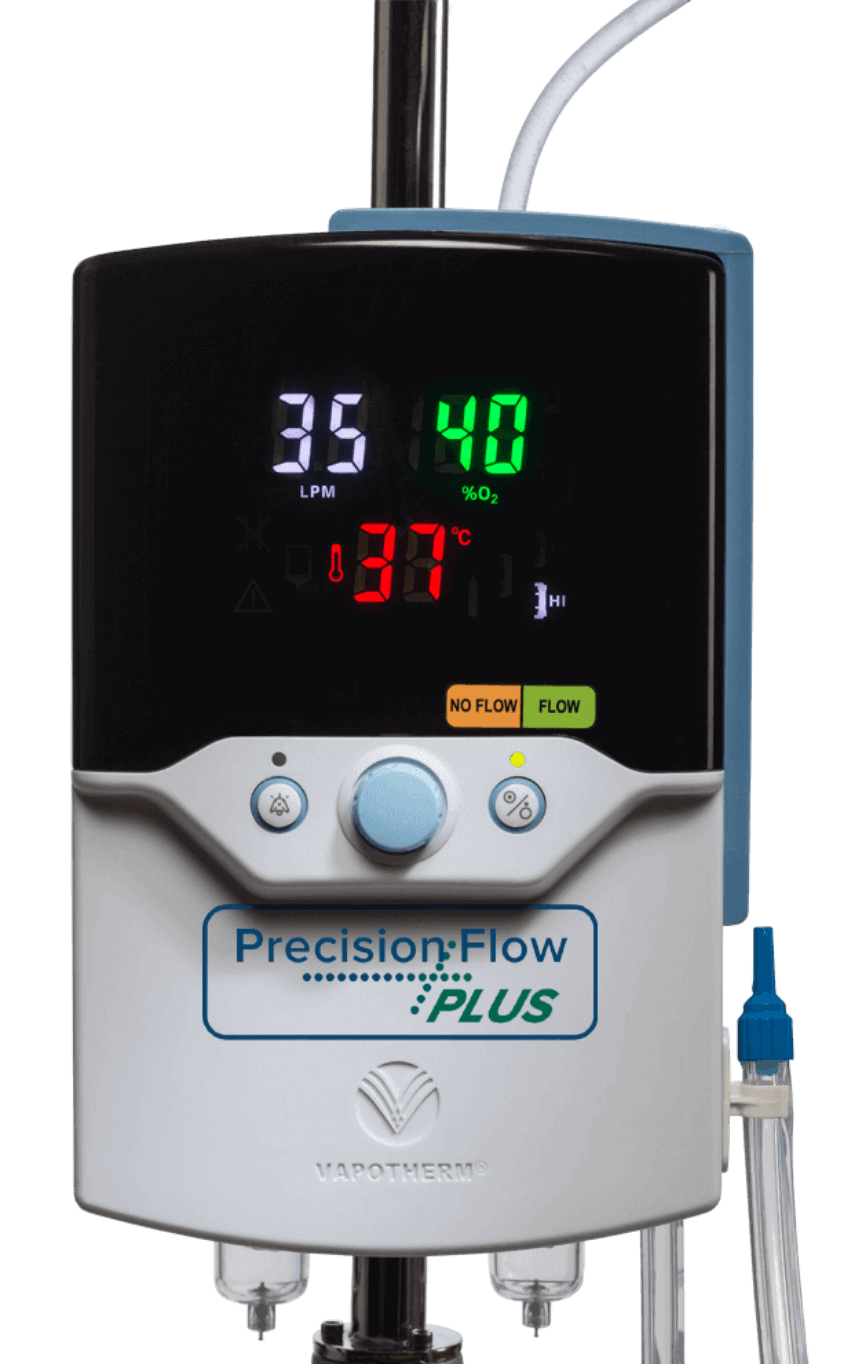 Request a Demo
Ready to go Mask-Free? Our Sales and Clinical Team is ready to help integrate our technology into your patient care routine.
SOURCES: [1] Doshi, Pratik et al. High-Velocity Nasal Insufflation in the Treatment of Respiratory Failure: A Randomized Clinical Trial. Annals of Emergency Medicine, 2018. Published online ahead of print. https://www.ncbi.nlm.nih.gov/pubmed/29310868. [2] Haywood, Steven T, Jessica S. Whittle, Leonithas I. Volakis, George Dungan II, Michael Bublewicz, Joseph Kearney, Terrell Ashe, Thomas L. Miller, Pratik Doshi. "HVNI vs NIPPV in the treatment of acute decompensated heart failure: Subgroup analysis of a multi-center trial in the ED." The American Journal of Emergency Medicine, 2019. https://doi.org/10.1016/j.ajem.2019.03.002. [3] Doshi P, Whittle JS, Dungan G et al, The ventilatory effect of high velocity nasal insufflation compared to noninvasive positive-pressure ventilation in the treatment of hypercapnic respiratory failure: A subgroup analysisLung. 2020 Apr 6. https://doi.org/10.1016/j.hrtlng.2020.03.008]