Vapotherm provides high velocity nasal insufflation (HVNI) with simultaneous oxygen delivery to augment breathing of spontaneously breathing patients suffering from respiratory distress and/or hypoxemia in the hospital setting. It is not intended to provide total ventilatory requirements of the patient and not for use during field transport.
The information provided in this section is for educational purposes only. This information is not intended to support the safety or effectiveness of Vapotherm products, or diagnose, treat, cure, or prevent any disease. It is not a substitute for consultation with your healthcare provider and should not be construed as medical advice. 
Rethinking the ABCs with Dr. Jeremy Greenberg
In this LIVE recorded presentation, Dr. Greenberg:
Reviews the impact and consequences of increased work of breathing
Describes the mechanisms of action of High Velocity Therapy
Explains the many applications of High Velocity Therapy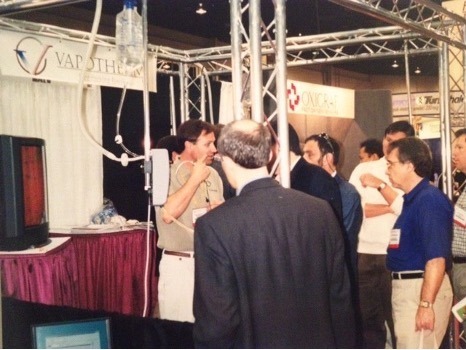 Health Care Innovation that Makes a Difference: Doing Work that Matters at Vapotherm
New tools and technologies are required to help health care providers treat patients more efficiently and effectively (and at a lower cost), however, innovation isn't easy.
Vapotherm was founded in 1999 after Bill Niland had a wild idea to modify a technology used in horse racing for human use. He believed high velocity therapy could help provide a more gentle and efficient solution to the most vulnerable patients – the sick, the weak, and those struggling to breathe. Prior to Vapotherm, tools to treat the smallest patients obscured their faces and required a tight seal on their fragile noses.
Proven Therapy. Simply Delivered.
Nurse Safeena Rehman tells a powerful story of how her team increased a pediatric patient's comfort while also reducing that patient's length of stay from 7 to 5 days.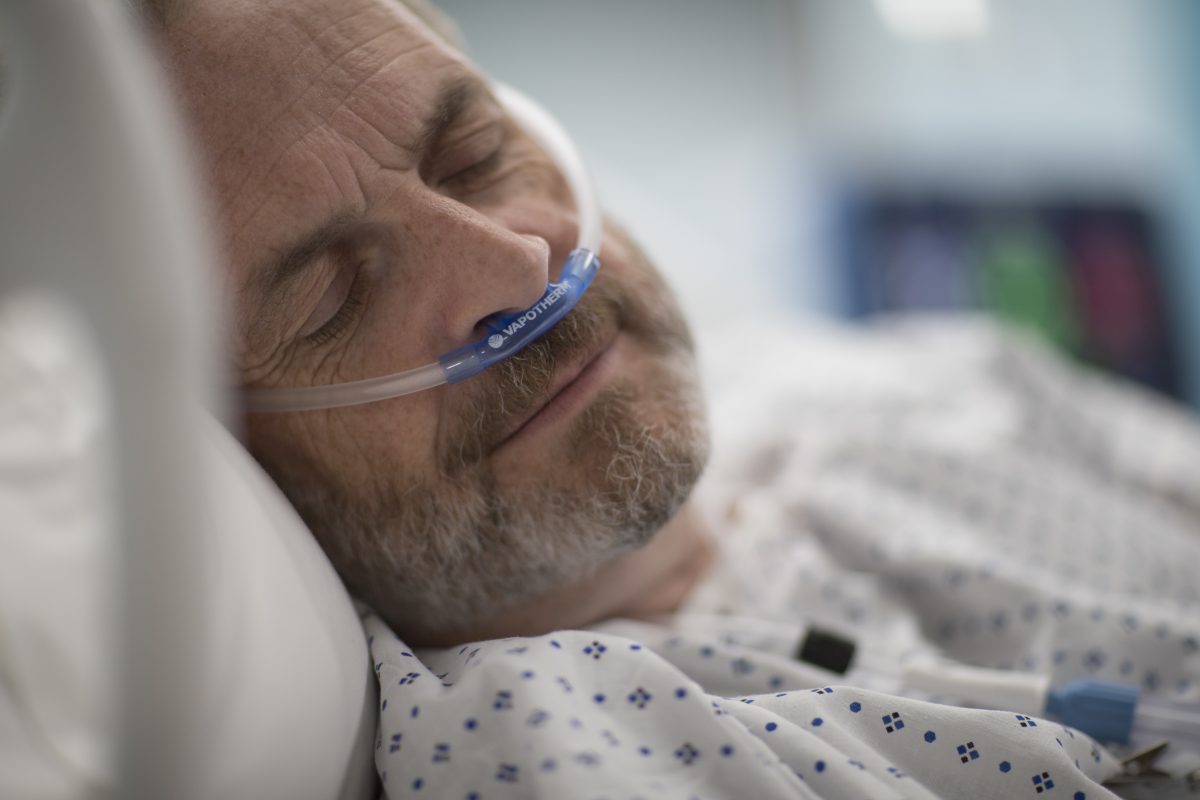 Should we be addressing work of breathing earlier in acute critical illness?
In a recent article in Frontiers in Medicine, "Back to the Basics: Should we be focusing on reducing work of breathing earlier?", a group from the University of Tennessee College of Medicine Department of Emergency Medicine hypothesized that clinicians should be focused on treating work of breathing earlier in the critical illness with high flow oxygen therapy instead of the current standard of care of supplemental oxygen via low flow nasal cannula.
The Wait is Over: Vapotherm's HVT 2.0 Aerosol Disposable Circuit (ADPC) is Here.
We've got some news: The Aerosol Disposable Patient Circuit (ADPC) for HVT 2.0 is here and we have made some improvements.
Our new and improved design of the HVT 2.0 ADPC results in a greater than 3x improvement in aerosolized solution delivery compared to our previous generation product.
The new HVT 2.0 ADPC provides a more streamlined option for clinicians who use the Aerogen Solo nebulizer when delivering aerosolized solutions to patients receiving High Velocity Therapy.  The ADPC enables clinicians to use the same circuit for delivering HVT and aerosolized solution delivery for both intermittent and continuous modalities. 
High Velocity Therapy Resources and Tools for RSV
Respiratory Syncytial Virus (RSV) is back in full force in an unprecedented surge of cases now 60% higher than 2021's peak week. Typically, RSV would appear in the fall/winter months and was predictable – this year is different. Hospitals are overwhelmed by pediatric cases with nearly three quarters of pediatric hospitals full.
Decreasing Work of Breathing in Heat Stroke Patients
With record heatwaves showing no sign of slowing down, your hospital may be seeing an increase of hyperthermic patients. While there aren't many high-quality studies on management of classic heat stroke in adults1, the current understanding is that successful treatment requires early recognition, rapid cooling to normal body temperature, and supportive care.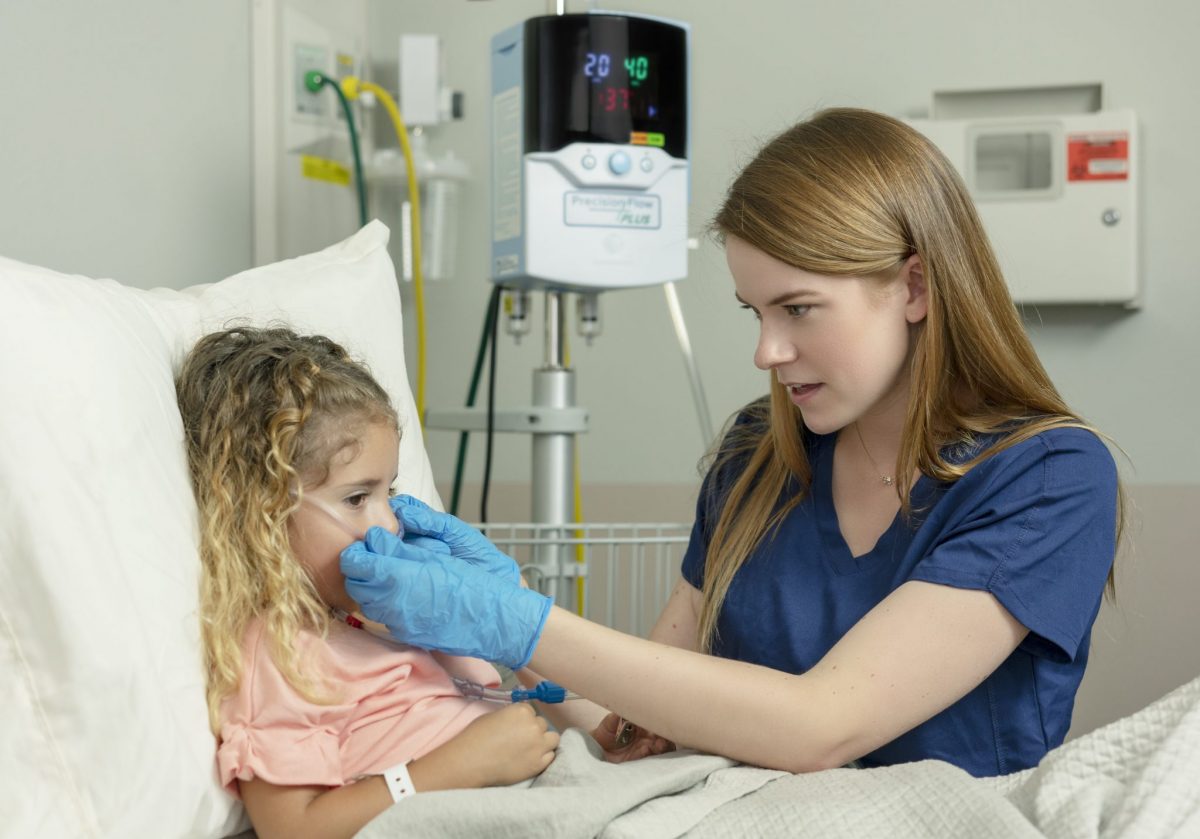 Vapotherm High Velocity Therapy use with Pediatrics Outside of the ICU
High Velocity Therapy was an important part of Emergency Medicine and Critical Care Physicians and Clinicians respiratory support armamentarium during the COVID pandemic.  This resulted not only n a great increase in the awareness and use of the therapy for acute hypoxemic respiratory distress, but also exposed many Physicians to the potential for high velocity therapy to be applied to an expanded list of clinical indications as well.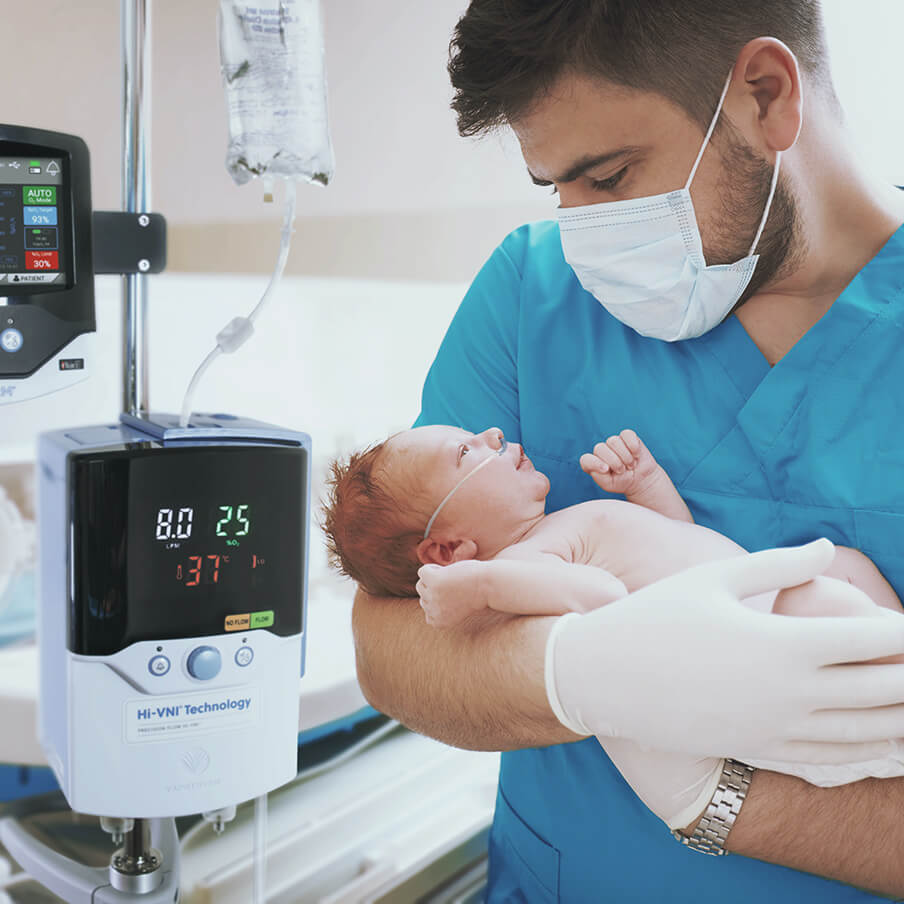 SHINE Trial Shows that Vapotherm® Improved Chances for Successful Intubation in Preterm Babies
The study, also known as the SHINE trial, followed a previously published protocol2 and examined whether use of high flow nasal cannula would improve the likelihood of first-time success of intubations in neonates. The authors concluded that this intervention does improve success by comparison to treatment as usual (TAU), which does not include supplemental oxygen. It's worth noting that though the authors refer to the therapy as "nasal high-flow," the trial was conducted using exclusively Vapotherm high velocity therapy, which is an advanced form of high flow.
How does Vapotherm High Velocity Therapy Compare to Noninvasive Positive Pressure Ventilation (NiPPV)?
Vapotherm high velocity therapy provides mask-free ventilatory support to patients in respiratory distress. Given the cannula interface, this modality often gets confused for generic high flow—a respiratory support tool with a cannula interface that delivers high liters of flow at low velocity. However, unlike generic high flow, high velocity therapy is indicated for ventilatory support and can be used as a frontline tool for respiratory failure in patient populations traditionally treated with NiPPV. But what patient types can be managed and how does this Mask-Free NIV® compare to traditional NIV when it comes to patient outcomes?