Proven Therapy. Simply Delivered.
Mask-Free respiratory support with Vapotherm HVT® 2.0 lets you improve your experience as well as your patients'– realize ease of care anytime and anywhere within your hospital.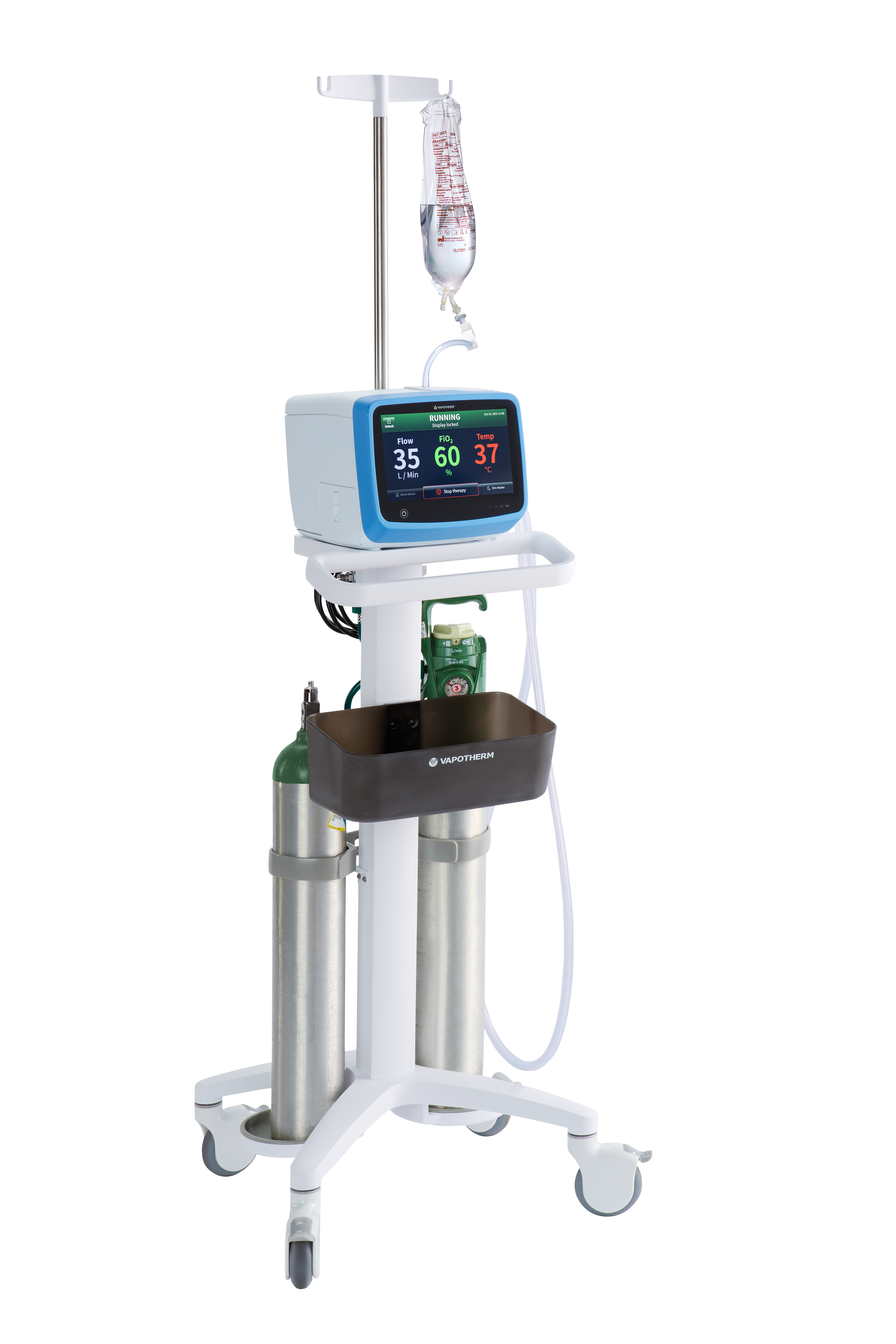 Designed to streamline clinical workflows.
Vapotherm HVT 2.0 uses our revolutionary high velocity therapy and is ready for use in approximately 5 minutes. It requires minimal patient coaching, and staff intervention. A large, intuitive touchscreen gives you clinically relevant information from a distance, which helps you make informed decisions quickly, and with confidence. A disposable patient circuit supports infection control and enables quick disinfection. On-screen troubleshooting support, and comprehensive alarms that facilitate patient safety and ease of care.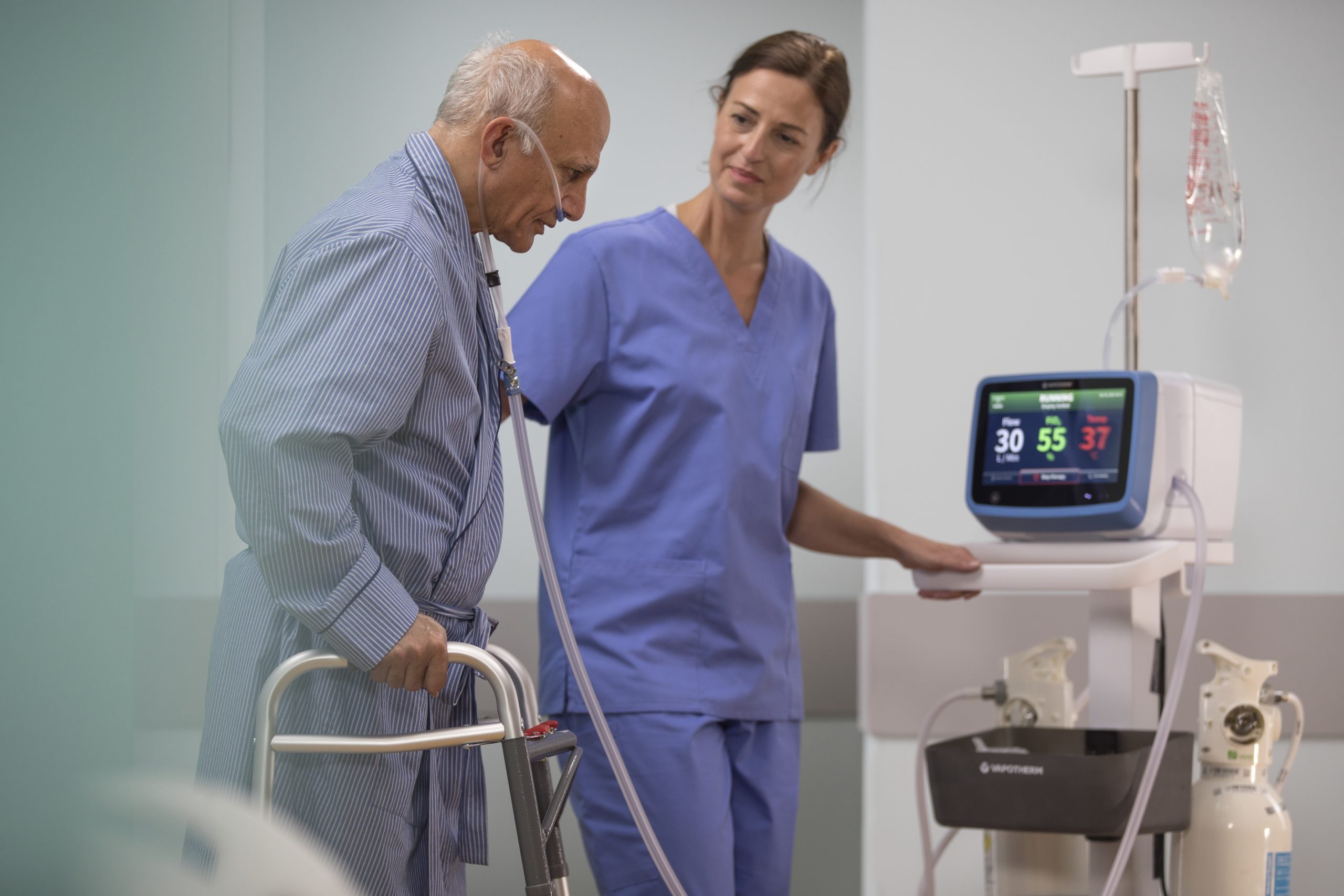 Ambulating ICU Patients to Help Reduce Length of Stay
Some patients require an ICU stay. Even in those cases, the HVT 2.0 could help. The medical community widely recognizes that early mobility in the ICU can lead to better patient outcomes. Vapotherm HVT 2.0 was designed for streamlined mobility while receiving high velocity therapy. High velocity therapy has been shown to improve patient distance, duration and recovery times compared to treatment as usual in a feasibility study. [4]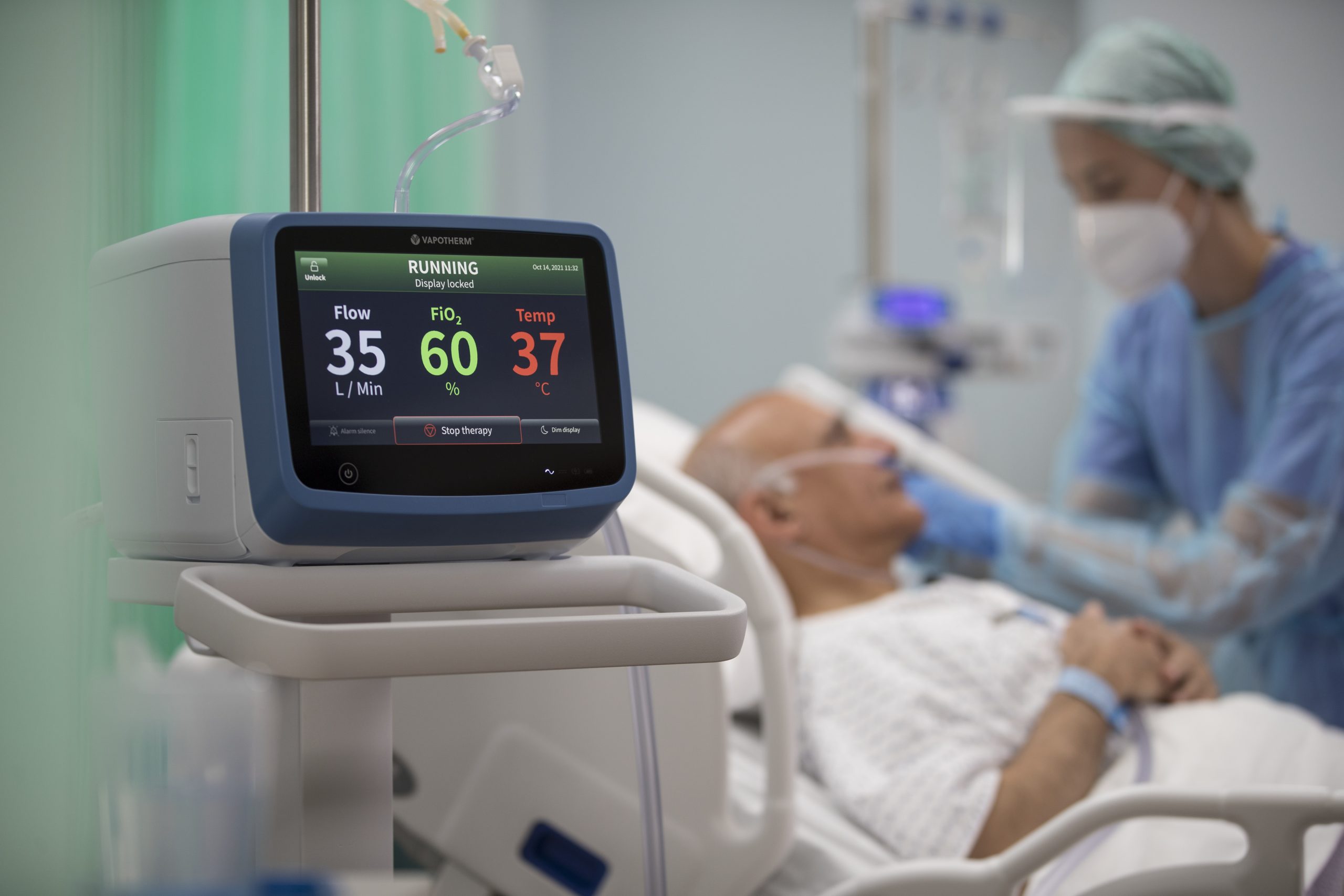 Helping Avoid ICU Admissions and Reduce Cost of Care
The revolutionary high velocity therapy delivered by the HVT 2.0 could help reduce hospital costs of care by avoiding ICU admissions. While all hospitals are different and complex, the patients treated with high velocity therapy in a large, randomized trial spent less time in the ICU than patients treated with NiPPV. [1,2,3] Those high velocity therapy patients spent more time on the Medical Floor and in Step-Down units. [1,2,3]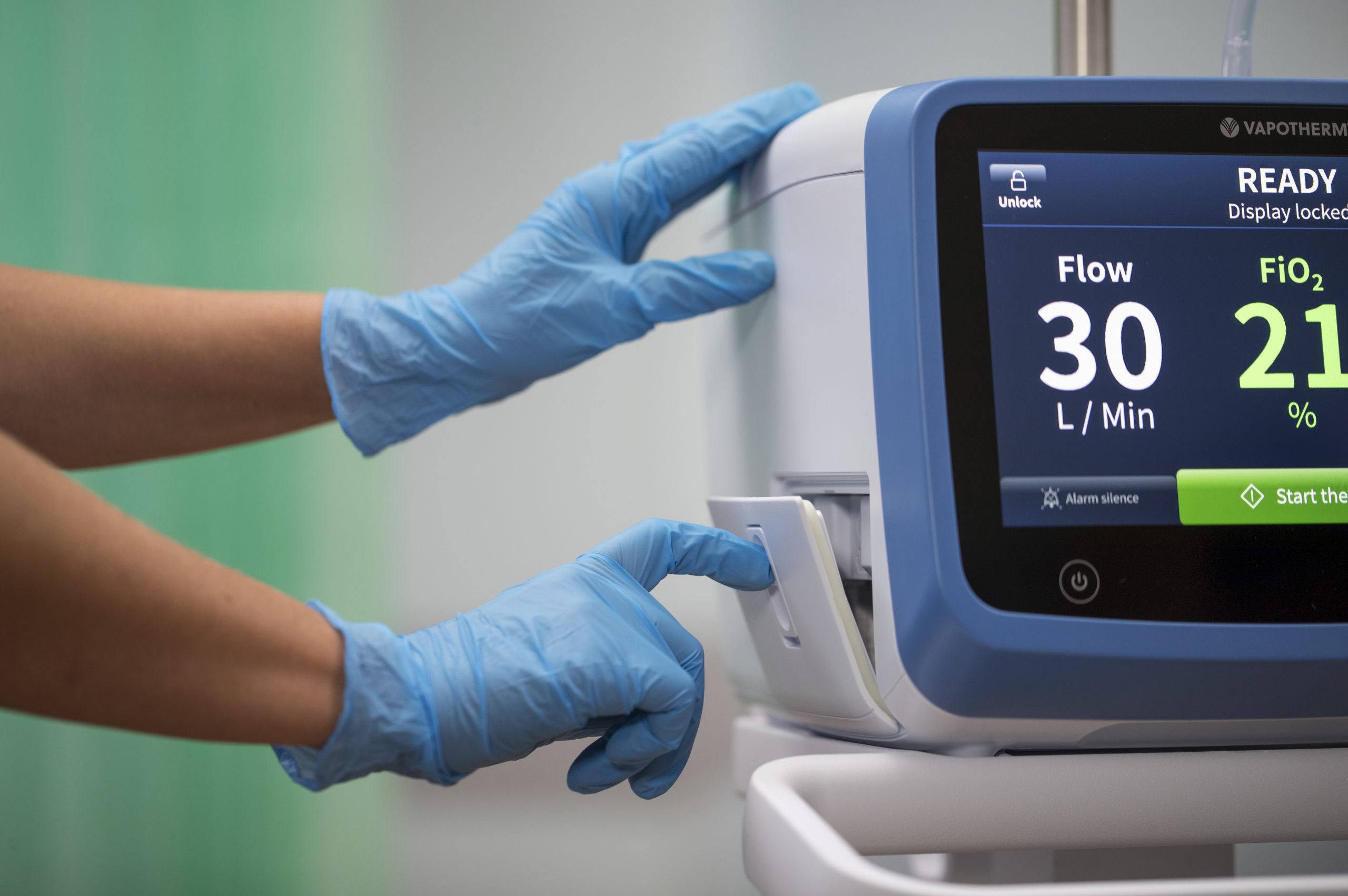 Seamless mobility and respiratory support for your patients. Anytime. Anywhere.
Our solution is powered by AC with an internal battery to add safety in the event of a power failure, an optional transfer battery for additional power needs, and has an internal blower that eliminates the need for air tanks during patient transfer.
Mounted on our ergonomically designed roll stand and engineered to hold two O2 cylinders it allows you to safely maintain therapy, when and where you need it throughout the hospital – untethered from the wall with optimal mobility.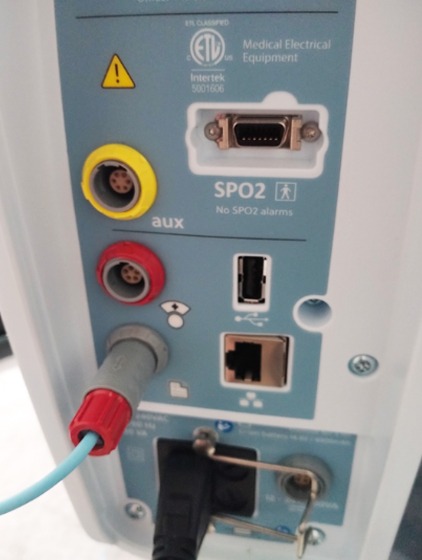 Help Keep Your Patients safe even when you are not in the room
The HVT 2.0 System has integrated patient safety alarms which are explained in plain English on the screen, which can be seen from outside the room.
It also can be connected to hospital EMR and nurse call systems, with cable options to support different connection types and middleware
Fig. B1: HVT 2.0 EMR Link Cable placed in EMR data port.

Request a Demo
Our team is standing by to teach, guide, and help you get the most out of the HVT 2.0 system
Product Specifications
Tech Specs
Flow rate: 5-45 L/min BTPS  (8-45 L/min BTPS when used with trach mask adapter)
Oxygen Concentration: 21-100% O2
Temperature: 33-39°C (adjustable in 1°C increments)
Dimensions: Height 9.1″ (23.114 cm), width 11.1″ (28.194 cm), depth 12.1″ (30.734 cm)
Weight: 16 lbs. / 7.3 kg
Mounting: Tabletop or roll stand; fits IV poles up to 1.5″ (38mm) diameter
System Requirements
Power: 100 to 240VAC, 50 to 60 Hz + 15-minute emergency backup power at 45 L/min flow rate
Water: Sterile water in pre-filled sealed bags or bottles
Oxygen supply required: Oxygen or oxygen concentration at inlet pressures between 4 and 87 psi (450 KPa)
Gas connection: Standard non-interchangeable fittings for oxygen (DISS or NIST)
HVT 2.0 Components
HVT 2.0 device with integrated blower
Roll stand with dual O2 tank holders
Oxygen manifold is only shipped with the devices in the US (not available outside of the US)
Oxygen hoses
Transfer battery
1. Doshi, Pratik et al. High-Velocity Nasal Insufflation in the Treatment of Respiratory Failure: A Randomized Clinical Trial. Annals of Emergency Medicine, 2018.
2. Haywood ST, Whittle JS, Volakis LI et a HVNI vs NiPPV in the Treatment of ADHF: Subgroup analysis of a multi-center trial in the ED. American Journal of Emergency Medicine, 2019.
3. Doshi P, Whittle JS, Dungan G et al, The ventilatory effect of high velocity nasal insufflation compared to noninvasive positive-pressure ventilation in the treatment of hypercapneic respiratory failure: A subgroup analysisLung. 2020 Apr 6. https://doi.org/10.1016/j.hrtlng.2020.03.008
4. Siler, Thomas et al. Assessing the Clinical Effect of High Velocity Nasal Insufflation on Improving Ambulation in Patients with Dyspnea: A Feasibility Study. J Clin Respir Dis Care 2019, 5:2