.
.
Summary: Impact of heated humidified high flow air via nasal cannula on respiratory effort in patients with chronic obstructive pulmonary disease.
Topic: Flush
Atwood CW, Jr, Camhi S, Little KC, et al. Impact of heated humidified high flow air via nasal cannula on respiratory effort in patients with chronic obstructive pulmonary disease. Chronic Obstr Pulm Dis. 2017; 4(4): 279–286.
Atwood and colleagues conducted the first study to examine mechanisms of action of high flow nasal cannula (HFNC) therapy in elderly patients with advanced chronic obstructive pulmonary disease (COPD) to demonstrate the ventilatory mechanisms of dead space purge by high flow nasal oxygen. The study sought to measure the effect of HFNC with room air on blood gas parameters and respiratory patterns in patients with stable COPD who were on a baseline of 1-2 LPM of oxygen at rest. The authors hypothesized that because of the nasopharyngeal flush mechanism, HFNC with room air would result in the equivalent PaO₂ tension and hemoglobin saturation (SaO2) as with low flow oxygen cannula. Secondary endpoints were related to ventilatory indices such as arterial CO2 tension, breathing pattern and dyspnea.
Thirty-two patients were studied under 3 conditions in a repeated-measures experimental design. Participants were first evaluated with neither oxygen nor HFNC support as the control (CTRL), and then randomized to receive heated, humidified HFNC with room air using the Vapotherm Flowrest® device and their prescribed low flow oxygen therapy (LFO). Supplemental oxygen was not used with HFNC because the study was intended to identify if purging the upper airway between breaths can achieve an equivalent increase in alveolar, and subsequently arterial, PO2 compared to low flow oxygen supplementation. Participants were stabilized on room air for 20 min between each arm of the study.
Patients were tested at CTRL, and then at HFNC and LFO in random order. During the 30 min at each condition, heart rate (HR), respiratory rate (RR), change in tidal volume excursion and pulse oximetry (SPO2) were monitored continuously. For the HFNC treatment condition, participants were started on the therapy at the lowest setting of 15L/min of nasal cannula flow and increased by 5L/min increments every 5 min as tolerated by the participant.
HFNC had a significant impact on RR reducing frequency by 11% from both the CTRL and LFO (p<0.05). The study findings confirm that HFNC therapy provides a clinically meaningful effect on respiratory parameters as well as showing that the main effect on the respiratory system was a reduction in RR during the acute application of HFNC therapy. The authors report that a reduction in RR likely equates to a reduction in work of breathing by way of a decreased RR. They also conclude that HFNC therapy with small amounts of titrated oxygen may do more for COPD patients than supplemental oxygen alone, although this will require further study.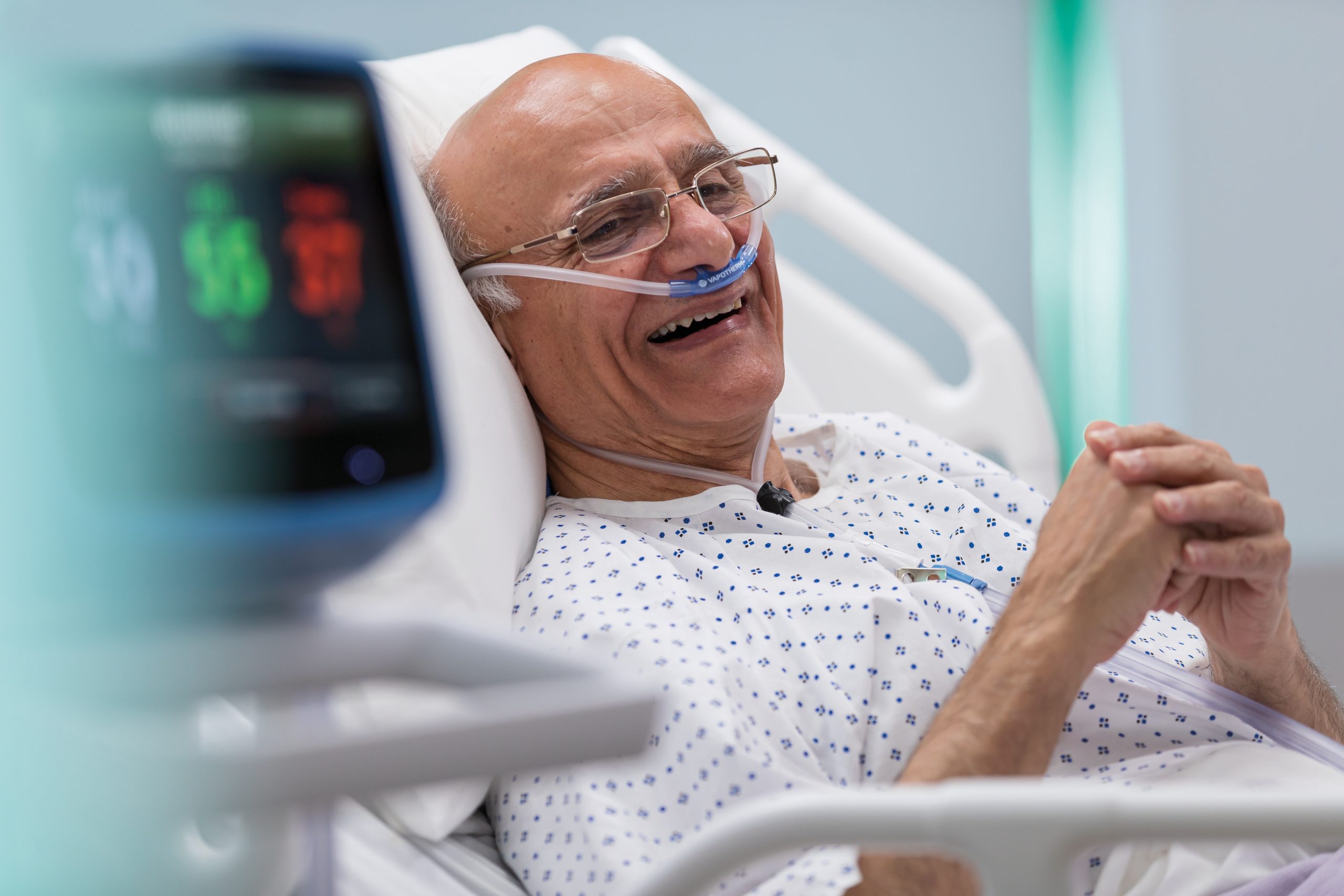 All Clinical Research
Go back to the Clinical Research table of contents
Mask-Free Respiratory Support
Vapotherm High Velocity Therapy