Safe Patient Care with Vapotherm High Velocity Therapy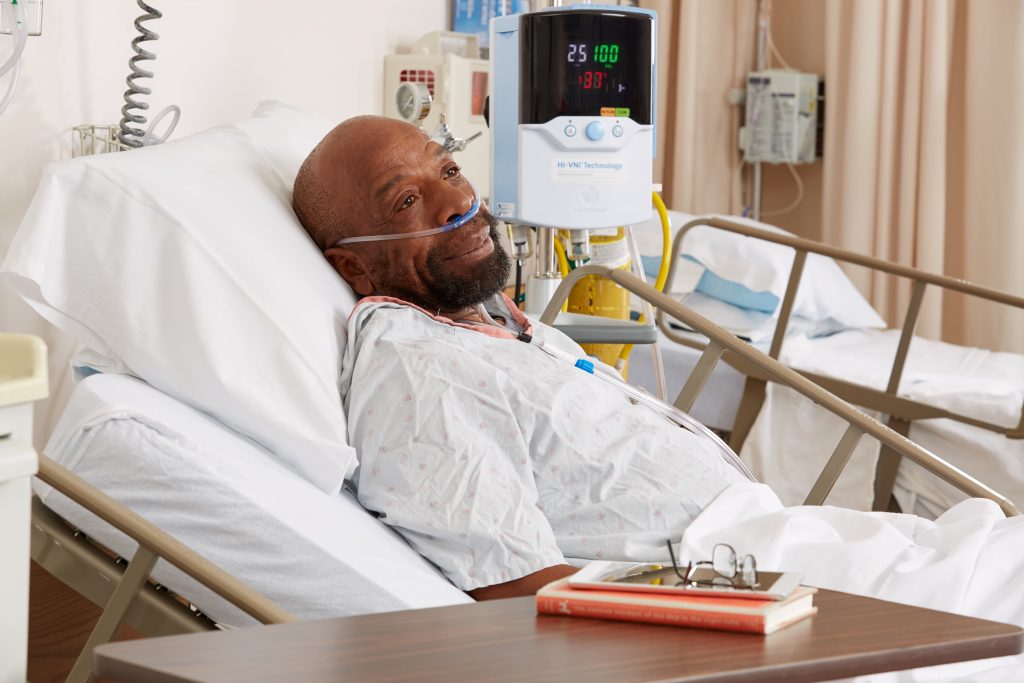 Whether on the general care floor, in the emergency room, or the ICU, Vapotherm devices are designed with patient safety in mind. There are inherent risks in using any medical device on sick patients. Here are the ways in which we strive to give you confidence that you're providing your respiratory distress patient with safe and effective care when you treat them with Vapotherm high velocity therapy.
No High Pressure Build Up
Although Vapotherm high velocity therapy and non-invasive positive pressure ventilation (NiPPV) can treat similar respiratory distress patient populations, they use two different approaches for ventilatory support. High velocity therapy does not deliver pressure as a primary mechanism of action. Unlike NiPPV, high velocity therapy is an open system. It is a de-escalation therapy that is safe to turn on high to stabilize the patient fast. The clinician can then titrate down upon patient response.
Gentle Mask-Free Interface to Reduce Skin Breakdown Risk
The ProSoft nasal cannula is a soft, safe, and reliable interface to deliver Vapotherm high velocity therapy to a wide patient acuity range. It is a light, soft-touch cannula with no hard plastics from nares to connector, designed for patient comfort and safety without sacrificing therapy.
Pressure ulcers occur in 70% of patients receiving 48 hours of ventilation.[1] Nasal cannulas have up to a 47 % incident rate of pressure ulcers.[2] Soft cannulas have been shown to reduce pressure ulcers.[3]
Patient-Centered Alarms
The Precision Flow Hi-VNI® system helps keep your patients safe with patient-centric alarms. There are 11 medium priority and 1 low priority alarm that alert of therapy disruptions and are designed to always be enabled. Together with the integrated nurse-call, EMR, and large screen display, they help you ensure that your patients are receiving the therapy you intend to provide.
Touch-Safe Equipment
Many generic high flow devices heat and humidify gas through pass-over humidification, where breathing gas passes over highly heated water to add moisture and humidify the gas. Devices using this method use higher than set temperatures in both the creation and maintenance of humidification.
Vapotherm® high velocity therapy uses membrane humidification instead, wherein water molecules are delivered to the gas path across a membrane to produce energetically stable vapor without high heat. In this way, our delivery tube is safe to touch and will not burn skin even among most vulnerable patients, like premature neonates or geriatric patients.
Fast and Reliable Disinfection
Vapotherm high velocity therapy uses a single-use, disposable patient circuit. Once a patient has been taken off the treatment, the circuit is disposed of and the device can be disinfected and ready for use in under five minutes. Furthermore, 5-micron filters at the back of the unit minimize debris or other contaminants reaching the patient gas path.
Learn more about Vapotherm high velocity therapy
REFERENCES
[1] Gregoretti et al. Evaluation of patient skin breakdown and comfort with a new face mask for non-invasive ventilation: a multi-center study. Inten Care Med 2002; 28:278-284.2.
[2] Black J, Kalowes P. Medical Device-Related Pressure Ulcers. Chronic Wound Care Management and Research Volume 3; 29 August 2016 Volume 2016:3 Pages 91—99.3.
[3] Lukose, Molykutty et al. No More Sore Ears: Nasal Cannula Related Pressure Ulcers Down to Zero. WOCN Society's 49th Annual Conference, 2017.