Health Care Innovation that Makes a Difference: Doing Work that Matters at Vapotherm
New tools and technologies are required to help health care providers treat patients more efficiently and effectively (and at a lower cost), however, innovation isn't easy.
It started with an idea
Vapotherm was founded in 1999 after Bill Niland had a wild idea to modify a technology used in horse racing for human use.[1] He believed high velocity therapy could help provide a more gentle and efficient solution to the most vulnerable patients – the sick, the weak, and those struggling to breathe. Prior to Vapotherm, tools to treat the smallest patients obscured their faces and required a tight seal on their fragile noses.
Vapotherm Created the Category of High Flow
Since then, Vapotherm has expanded from neonates to peds and adult care areas, treating the symptoms of respiratory failure including hypoxemic, hypercapnic, and other general respiratory failure (including shock) patients.
Vapotherm is an example of breakthrough innovation. Like the first Apple iPhone and the smartphone market today, Vapotherm created a totally new product that has now become ubiquitous.
Not only did Vapotherm create the category of high flow therapy, expanding that category to high velocity therapy, but Vapotherm also led other remarkable advances like the first usable transfer unit, and continued to innovate with closed-loop control. Closed-loop control means a device that automatically regulates a system to maintain a desired state or set point without human interaction. This is possible through Vapotherm's Oxygen Assist Module (OAM) which assists staff in better maintaining the target SpO2.[2] This advancement led to a Breakthrough Device Designation for OAM with the FDA.
However, this product is so innovative it isn't yet available on the US market as Vapotherm works through the Regulatory process with the FDA. This is the challenge with disruptive innovations: it's difficult for the market and regulators to keep pace with technology.
Fueled by people with a vision
However, the narrative that remarkable technology or a brilliant idea can create a new product category is rather misleading. High velocity therapy was never simply an idea led by a lone innovator. The real secret behind Vapotherm's innovation is the people behind the product, believing in a standard of excellence to transform care. The people behind the product include clinicians, R&D, product managers, and medical affairs sustaining innovation and constantly looking for ways to improve patient care.
QAV Code for HVT 2.0
Because of this disruptive innovation, there wasn't a category in the early 2000s for high flow therapy. In the 2010s, the U.S. Food and Drug Administration (FDA) granted Vapotherm's request for a new category (QAV) and expanded indications for the Precision Flow Hi-VNI system. The Precision Flow system was the first product listed under this new code.
Just like the first iPhone to now the iPhone 14, Apple continues to evolve the revolutionary first product.
Well, so does Vapotherm with HVT 2.0.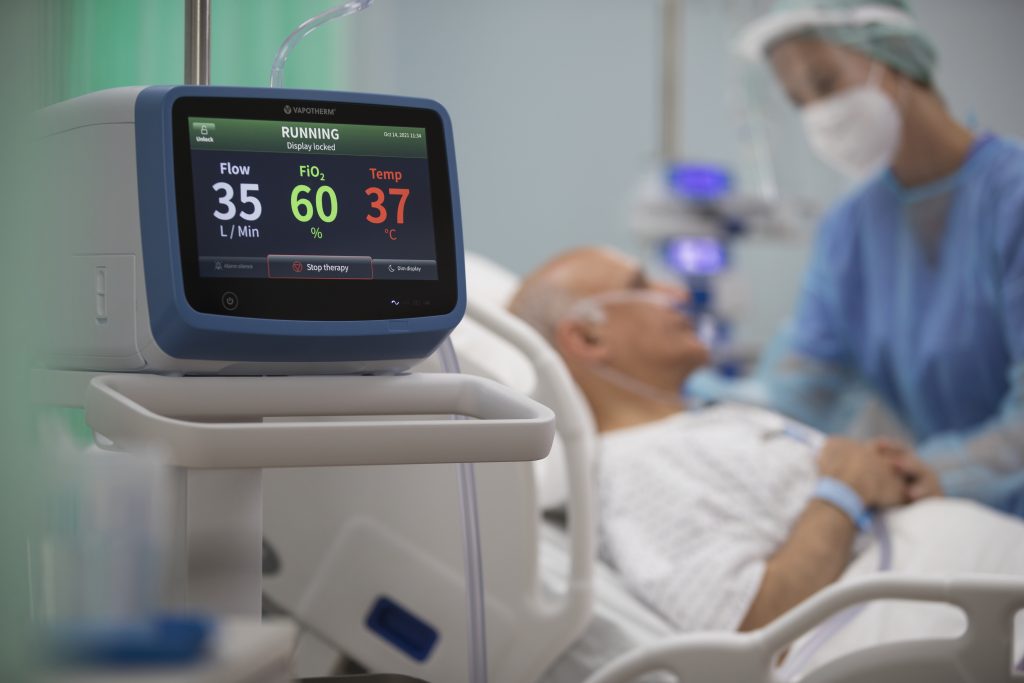 We are excited that our new system, HVT 2.0, is also listed under this QAV code. The indication states HVT 2.0 may be used to augment breathing of spontaneously breathing patients suffering from respiratory distress in the acute setting. This indication is very similar to pressure-based non-invasive ventilation products.
The creation of a new category grant required the presentation of substantial clinical data that demonstrated effectiveness in preventing mechanical ventilation as effectively as the gold standard of pressure based non-invasive ventilation, NiPPV.
Sustaining Innovation
Health care providers can confidently select Vapotherm's high velocity therapy to treat spontaneously breathing patients experiencing respiratory distress, in hospital settings. Patients on high velocity therapy are clinically proven to experience reduced work of breathing and improved gas exchange with the comfort and low risk of trading a tight-fitting mask for a comfortable nasal cannula interface.
Patients can eat, drink, speak and take oral medication while receiving this mask-free form of non-invasive respiratory support.
Did you know it takes about 17 years of clinical research to reach clinical practice?[3] This isn't surprising when it took the TV more than 30 years to become a mass medium in the US.[4]
It's hard to be the innovator because people are naturally resistant to change, and it takes time and energy to unravel the status quo systematically. Plus, competitors reap the benefits of the innovator's efforts.
Learn more about the High Velocity Therapy.